Intense Inktense
The Making of "Venice Inktense"
For this project I was working in reverse from the way I usually do things. Normally, I would do a picture and then worry about framing it, but with this one I had already acquired a frame with a profile I really liked, glass and all.
This meant that the project would have to be on paper. The only paper I could find large enough for the project was the paper used for my print, "A Time To Remember". It is a "hot press" paper (meaning it is extremely smooth and has virtually no "tooth" to it). As I still had a number of pieces in my possession, I decided to try it out.
While this kind of paper is required when doing off-set limited edition prints, it is a very challenging paper to use with artists materials, because it has very little "grip" for the pigments to hang on to.
A number of years ago I had purchased a box of ink pigment pencils (Inktense by Derwent) thinking they could have some interesting uses. Well, now they would be put to the test! First, I had to figure out how they would react to the smooth paper. And then how much abuse this smooth paper would allow. As it turned out, the paper is pretty tough stuff!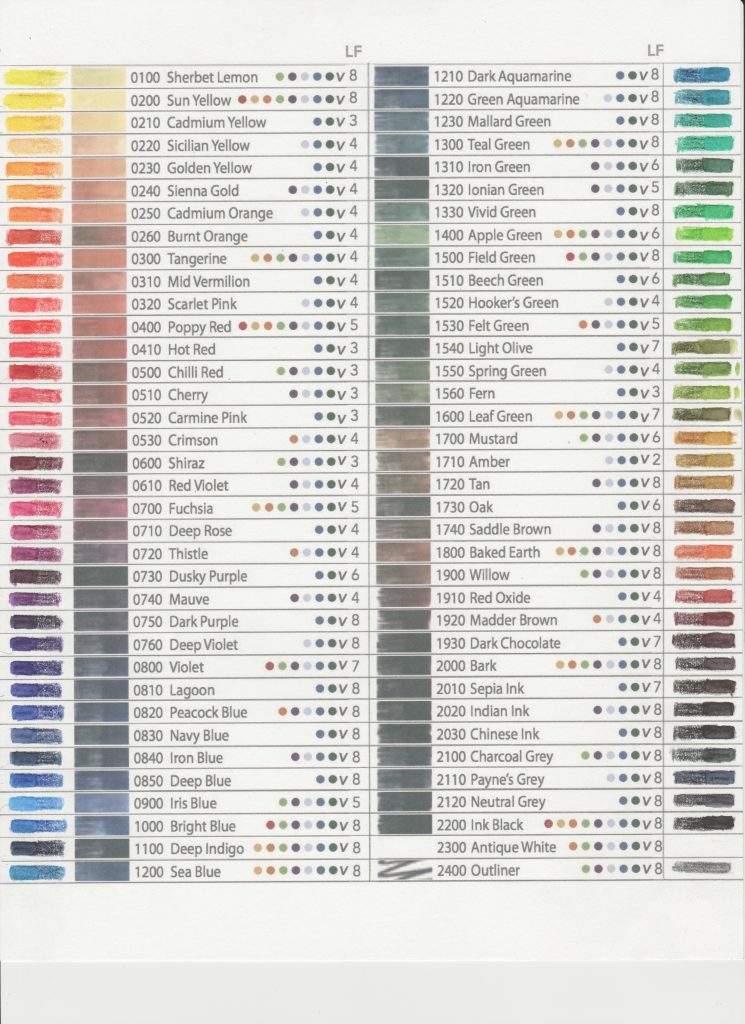 The colours on the Inktense pencils themselves, do not look the same as when the ink has been wet down. So I downloaded a chart with the 72 colours I would be using. To be certain (as chart colours may not be totally accurate) I made my own corresponding samples with the colours, dry and wet. This would be my reference chart for picking the right colors. I could use the colour dry or wet, but always had to remember that if a dry color ever got wet, it would change.
The other thing I had to always keep in mind was that the white inktense pigment does not work to give a pure white colour, but only to change another color, (such as adding white to red to give a pink color.) Therefore, anything white in the picture had to remain pure white paper, untouched by any pigment. (Which was a challenge in itself.)
First of course, I draw my picture on regular paper and work out all the kinks. This is something I do for every art project no matter what medium I will be working with. Then I transfer it using graphite paper. In this project, I probably transferred too much detail. Though it is tough, the hot press paper doesn't take well to erasing…so…the ink is going to have to be dark enough to cover all the transfer lines.
As you can see by the pictures below, the ink goes on extremely light…and all areas need to be blocked in with their base colours before I start applying the layers of ink.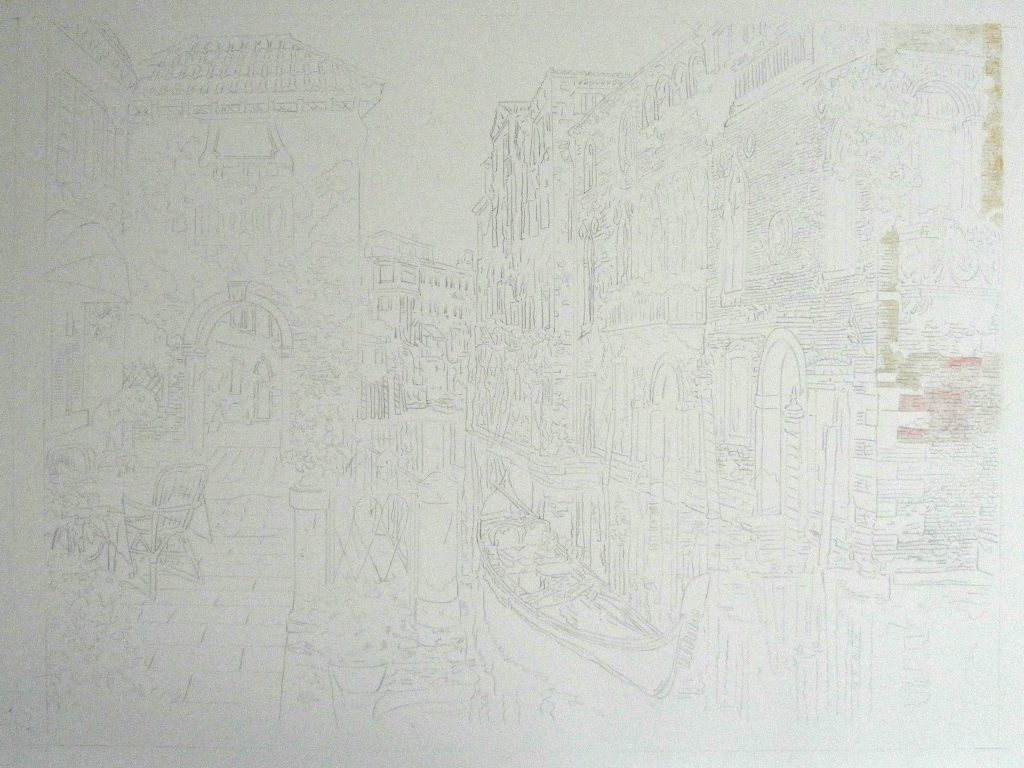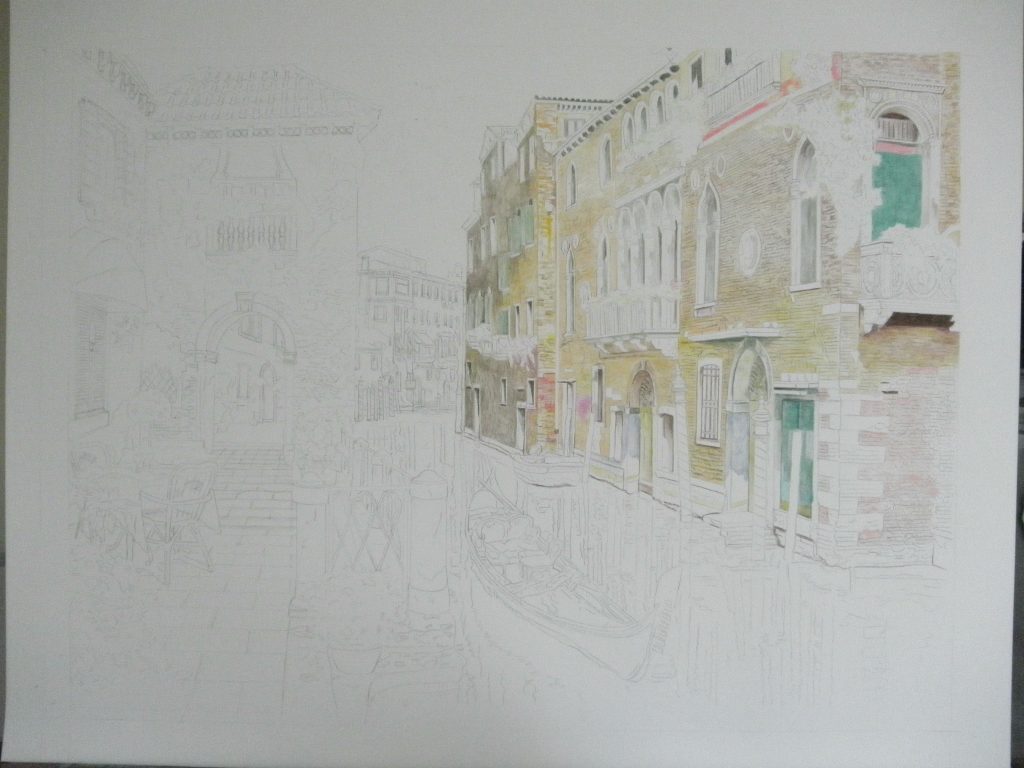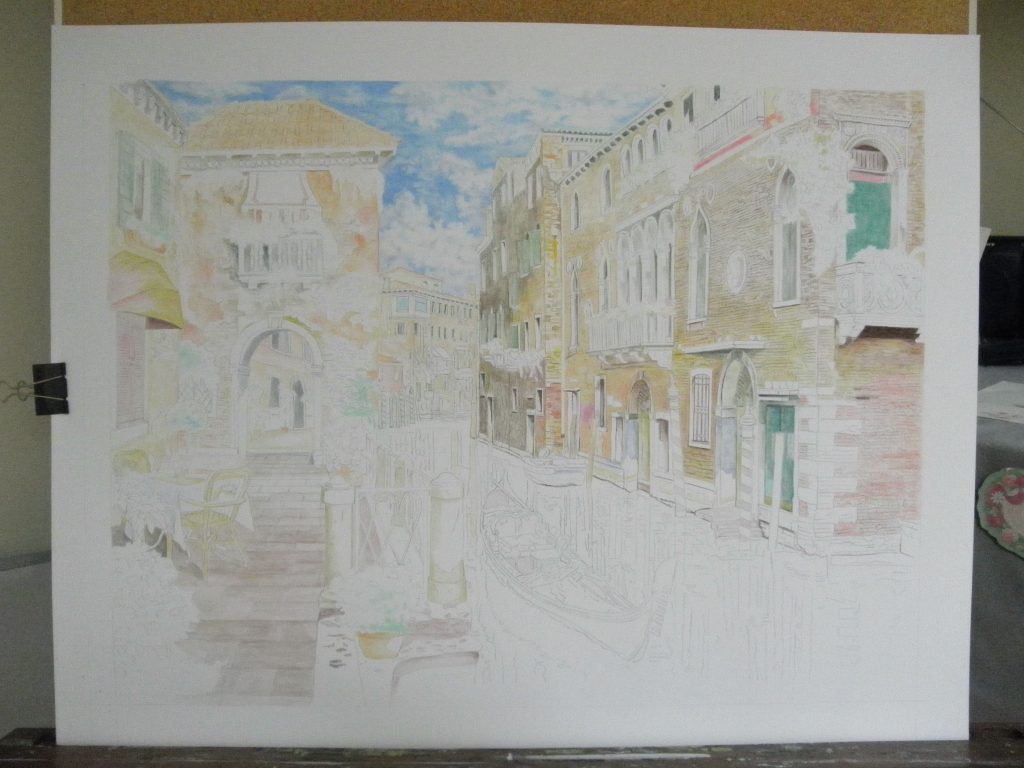 Through research, trial, and error (mostly trial and error), I discovered there are many different ways to apply the ink pigment. Initially I was using the dry pencil to "colour" it in, and then wetting it with a wet paint brush.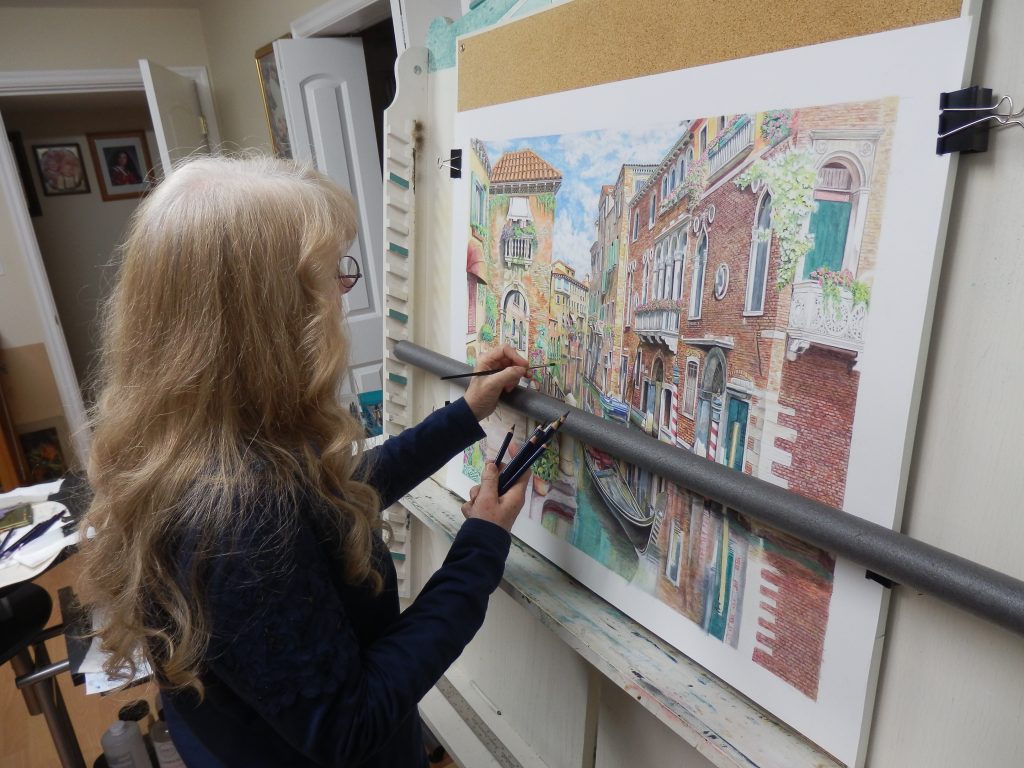 Another method I used was to wet a paint brush and take the ink pigment from the tips of the inktense pencils.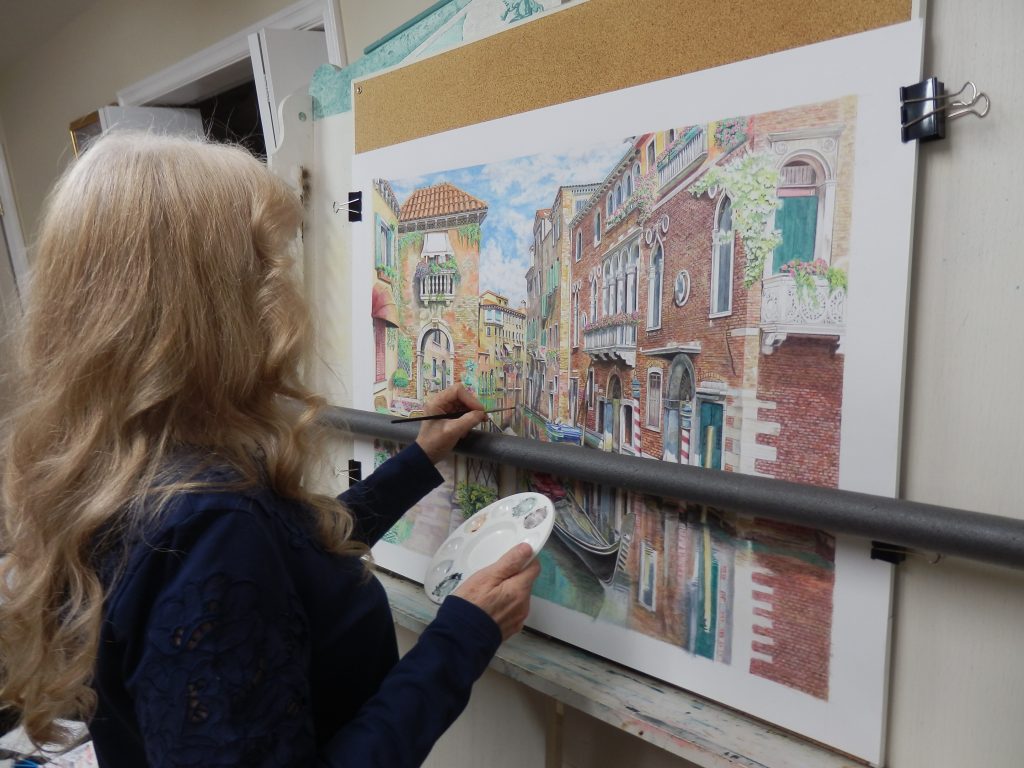 Another method that worked well for me was making an ink solution using the pigment and water in a water colour palette, then painting it on like a water colour paint. This allows you to mix colours other than what are supplied in the set.
After working with the pencils for most of the project , I purchased a small set of Inktense Blocks. Using a water color palette, this allowed me to shave pieces of ink pigment and make a fluid solution, rather than obtaining the pigment from the end of a pencil.
I used all the methods above to get the effect I wanted for this picture. It took many, many, MANY, layers of ink pigment to achieve the rich colours that I desired.
I really pushed the limit to see what could achieve from these Inktense pigments. It was a very lengthy and challenging project. I leave you with samples along the path, start to finish…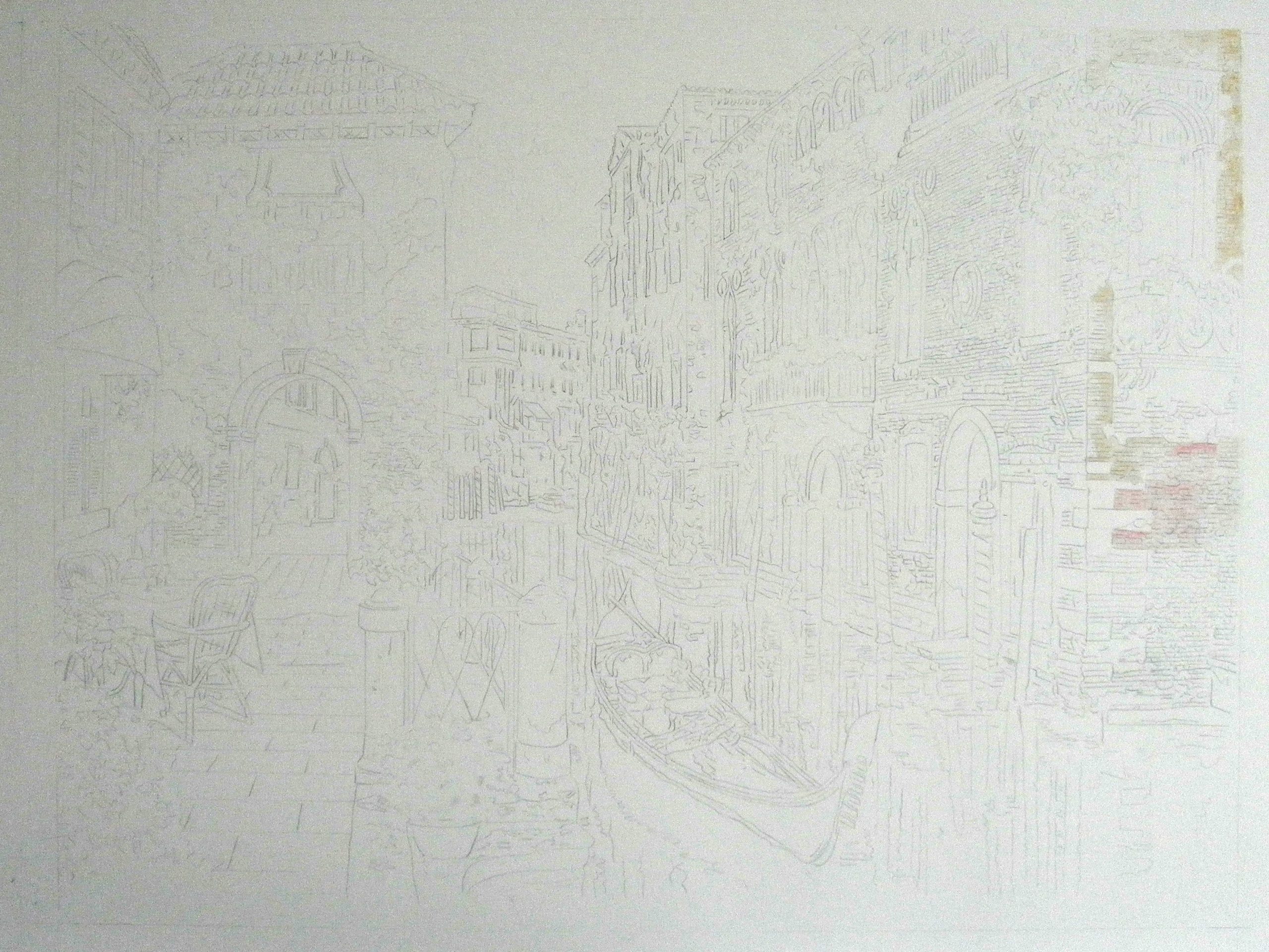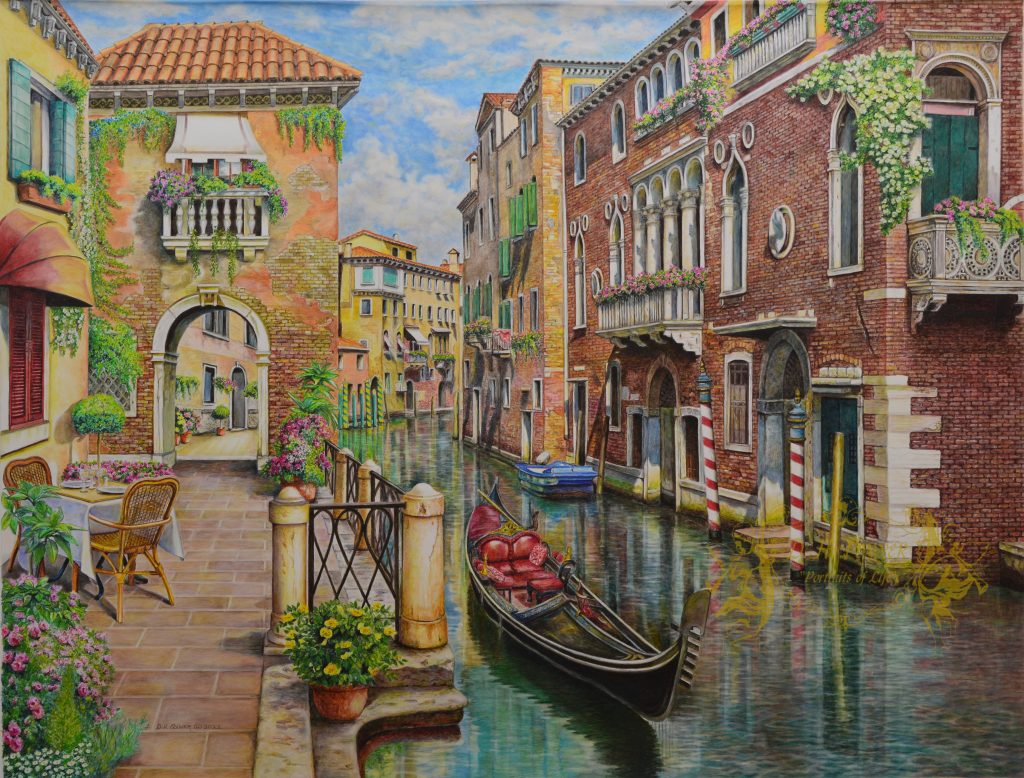 On a personal note…my audio companions for this project were: Joe Bonamassa (Live from the Royal Albert Hall), Gino Vannelli (Wilderness Road) and(More of a Good Thing) …Ciao.