Tawana
So, it was in the early morning of 1992, and I had been at the Chilliwack Mall doing an early morning shop. I'd left the mall, and was heading for my car in the parking lot. Looking forward, I stopped dead in my tracks, when in front of me, sitting in the open back of what used to be called a station wagon, was a huge spotted cat! I was shocked, a little intimidated and just a little hesitant to continue any closer.
The fellow that was with the cat saw the hesitation, and motioned me to come over. Still a bit leery, I slowly approached. The fellow introduced himself and his feline companion. It was Dr. Al Oeming, and with him was Tawana, his pet cheetah.
Dr. Oeming was from the Alberta Game Farm, and was touring around with 'Tawana', to raise money to purchase another cheetah for the game farm.
After he had convinced me that Tawana was perfectly tame, I dared to pet her. She instantly reacted with a deep purr. I was now totally smitten with her. I would have to share this experience with my kids.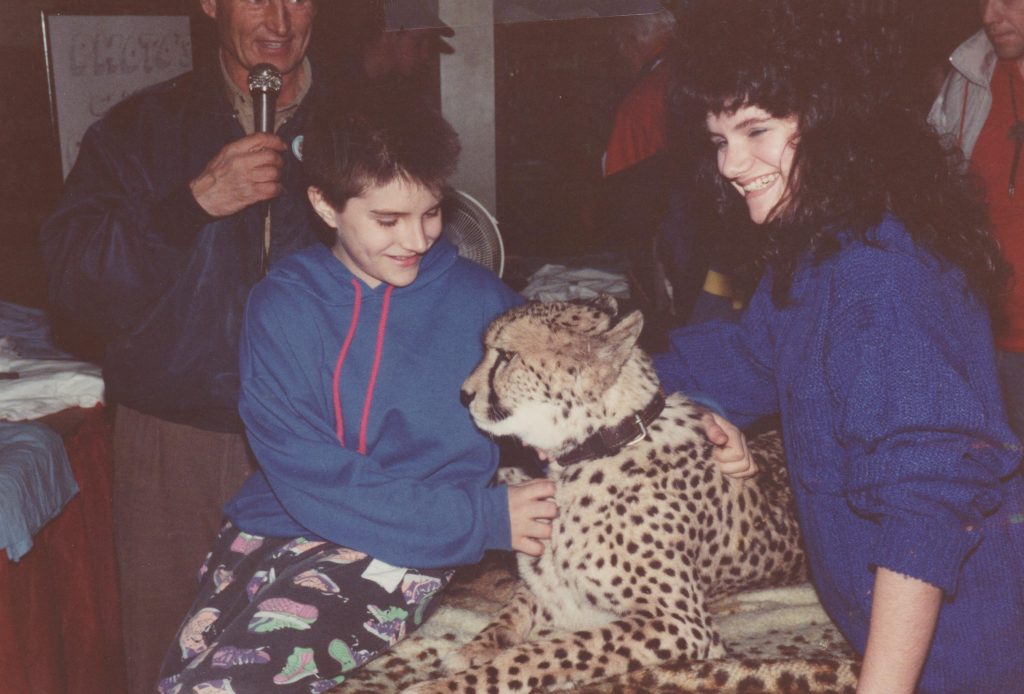 So later that day, we went back to the mall as a family, and enjoyed some time with this amazing creature. I think the kids were as delighted with her as I was.
In memory of the beautiful Tawana, I did a colored pencil sketch and later, an oil painting from the pictures taken on that special day.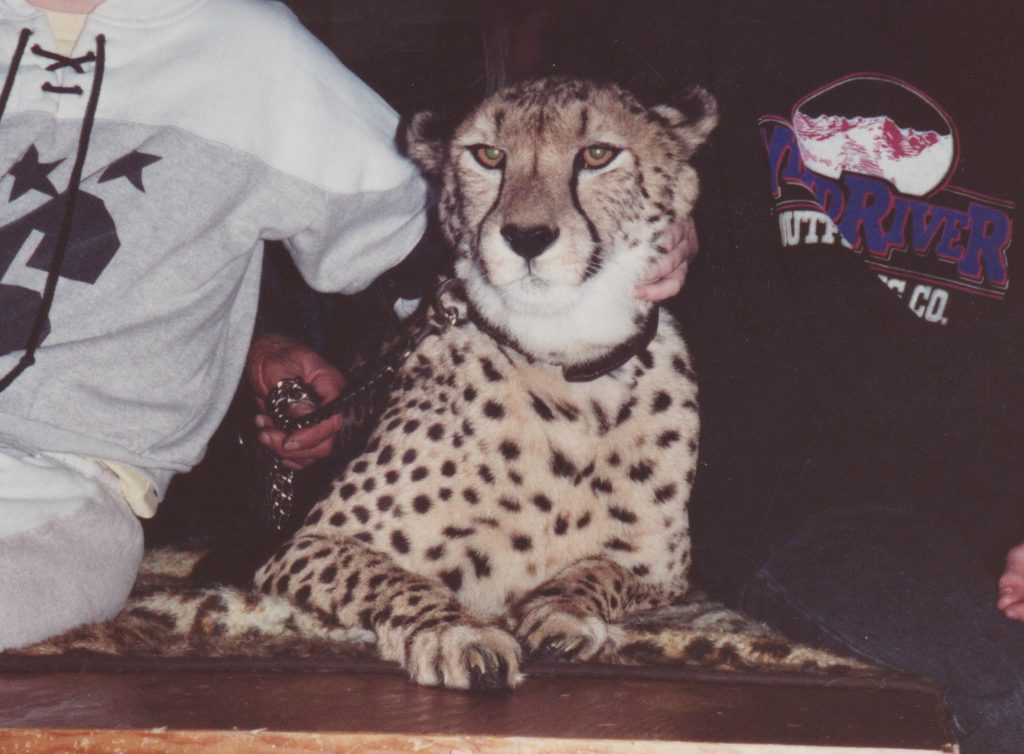 This was another of the many pictures taken that day of Tawana at the Chilliwack Mall. This profile became the one I chose for my colored pencil sketch.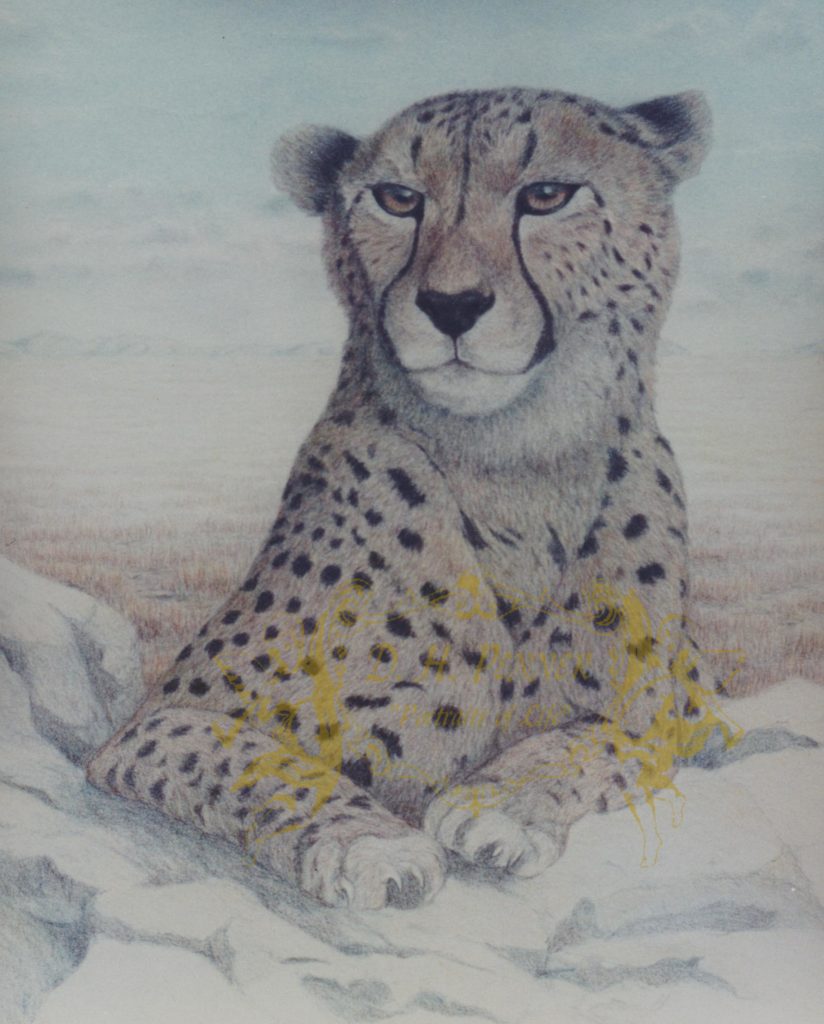 The finished product, a 14″ x 11″ image of Tawana done with Prisma colored pencils. I decided to present her in a surrounding more natural than in a mall setting.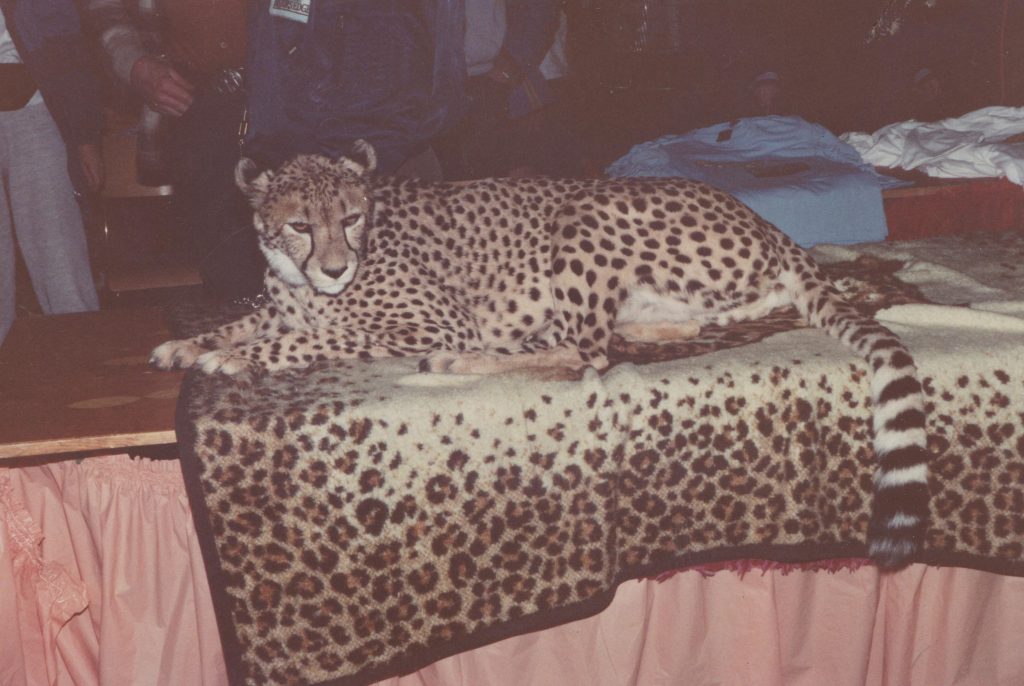 This picture was taken during one of Tawana's "rest" periods (giving her a break from the numerous amount of people hoping to pose with her). This profile became the basis of the oil painting I did of her.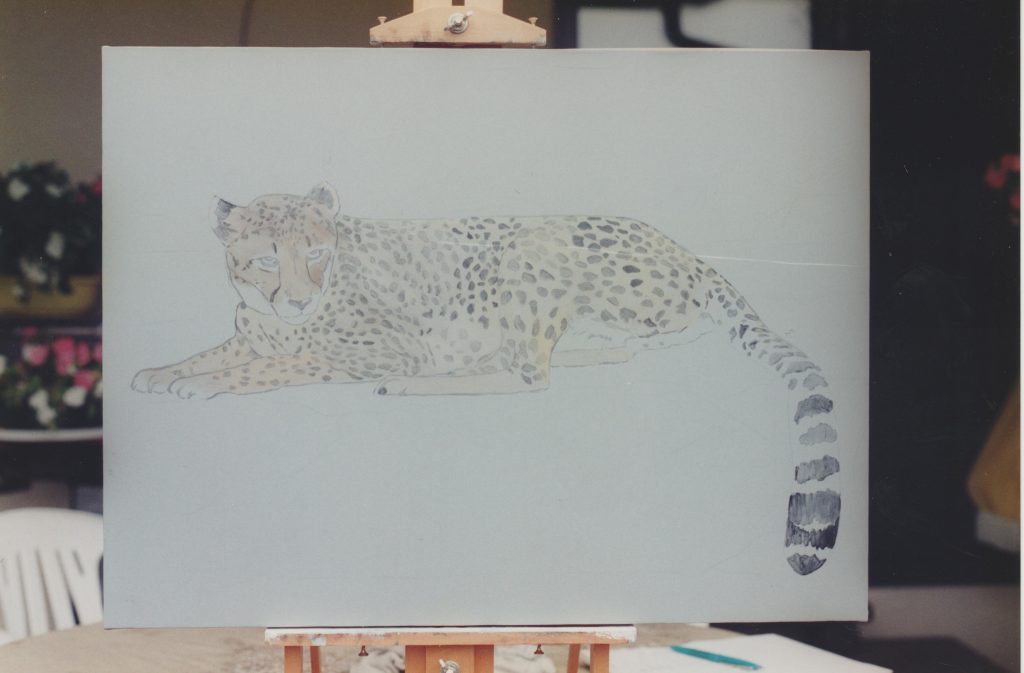 Before starting this project, I did a lot of research to best present Tawana in her native surroundings. And also to have the profile look natural. This was the start…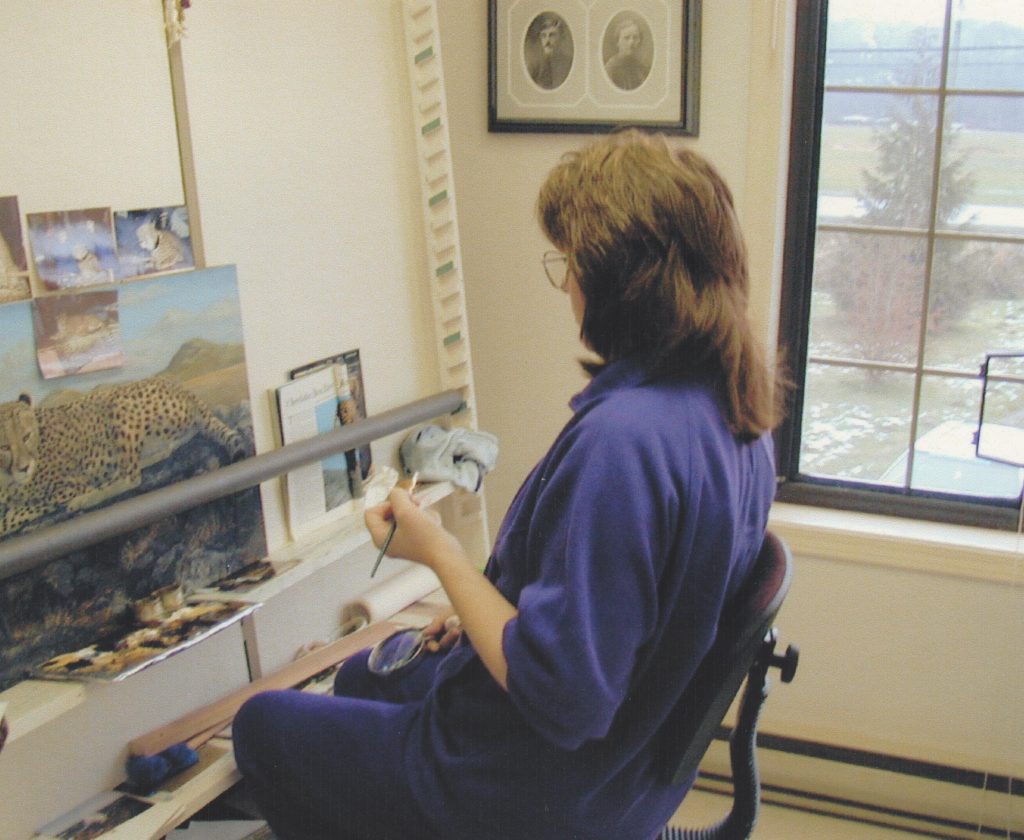 Some projects are simple, some more complex, but after many hours on this one, it will be a memory I will never lose.
The completed 18″ x 24″ oil painting is below.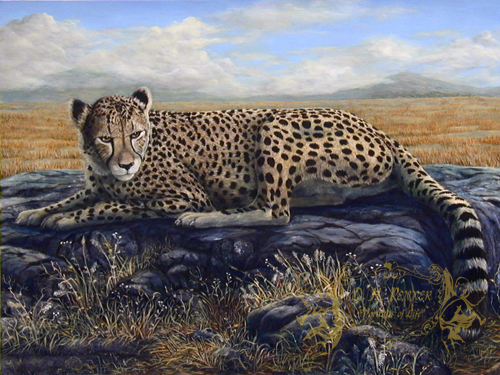 Just an aside, cheetahs are an endangered species, and Dr. Oeming was well ahead of his time in promoting and practicing conservation methods. With his passing in 2014, conservationism lost a true pioneer. If you are curious, this Biography of his passing, details his most interesting life, or you can do a search of your own. I only wish I had contacted him to let him know how that chance encounter influenced me, not that he needed another pat on the back.

'He always lived life on his own terms'
Edmonton Journal
MARTY KLINKENBERG Edmonton Journal mklinkenberg@edmontonjournal.com Twitter: @martykej
In the month before his death, Al Oeming banded great grey owls, fawned over his horses and Rhode Island Red chickens, cleared snowy trails with his beloved 1968 John Deere tractor, pumped iron in the basement and climbed a board a stair stepper three nights a week.
Even with a pacemaker and another cardiac procedure looming, one of Alberta's greatest adventurers and entrepreneurs refused to slow down.
"He was not the type of person to take it easy," says his son, Thelon, a playwright in Toronto. "He always lived life on his own terms, and I think he went out that way."
A zoologist, naturalist and filmmaker, Al Oeming died after undergoing an angioplasty in Edmonton on March 17. A barrel-chested pro wrestler who bench-pressed 505 pounds in his 20's, Oeming could still lift 140 pounds at the time of his death three weeks shy of his 89th birthday.
"He was just driven," his son, Todd, 55, says during a tour of the family's sprawling property in Strathcona County. "He never took a back seat to anybody."
Known best as the proprietor of the Alberta Game Farm, Oeming traveled from the Arctic to Africa on expeditions to capture animals displayed at his 560-hectare zoo 25 kilometers east of Edmonton. Opened Aug. 1, 1959, the park boasted the world's largest private wildlife collection at the time and welcomed hundreds of thousands of visitors before it shut down, then operating as Polar Park, in 1998.
An occasional guest on his friend Marlin Perkins' popular television program Wild Kingdom, at one time Oeming had 166 species on exhibit at the game farm, including a bottle-fed grizzly bear named Big Dan, a Siberian tiger named Hector that walked on a leash, a cheetah that rode in the back of his station wagon and gorillas that routinely used treetops as a ladder to escape their compound and roam the countryside in Strathcona County.
"I told dad that he should a write a book about his life, but he was always too busy writing the next chapter," says Todd Oeming, who worked on the farm before embarking on a career selling commercial real estate.
Born April 9, 1925, in Edmonton to parents who immigrated from Germany, Oeming enlisted in the Canadian navy in 1943 and served as a gunner in the South Pacific during the Second World War. Discharged in 1946, he became a professional wrestler in the U.S. with his boyhood pal Stu Hart, with whom he later owned the Northwestern Wrestling Alliance, the predecessor to Stampede Wrestling.
Returning to Edmonton in 1949, Oeming wrestled under the pseudonym Nature Boy and studied ornithology at the University of Alberta. Climbing into the ring against the likes of Gorgeous George, Killer Kowalski, Haystacks Calhoun and Al and Tiny Mills, he staged sold-out shows at the old Edmonton fairgrounds that often ended in donnybrooks with the spectators involved.
After completing his master's degree at the U of A under renowned zoologist William Rowan, Oeming sold half of his share in the wrestling circuit and used the proceeds to fund the game farm on Highway 14.
In 1964, chairman Mao Zedong invited him to China to study breeding programs for rare and exotic species; later, Oeming bred the first muskoxen born in captivity, a pair of calves the City of Edmonton presented as a gift to the Moscow Zoo.
Over the years, a handful of feature films were made by or about him, and a miniseries about him called Man of the North aired in 1980 on CBC.
"He was … not of this era," Thelon Oeming, 34, says of his father, who was married twice and divorced once. "He was in love with another world."
A master promoter, Oeming traveled the country in winter with his cheetah, Tawana, in the back of a station wagon. Pulling into small towns, he would call police to report a maniac with a cheetah on the loose — and then call the local radio station and grant an interview. "He was doing guerrilla marketing at a time guerrilla marketing wasn't common," Thelon says. "He was a great salesman."
Over the years, thousands of schoolchildren in Edmonton got to meet Tawana during classroom visits, and his animals regularly appeared on local TV. Once, Oeming sent Todd to a television studio with Hector riding in the back of a van. Eventually, the 135-kilogram tiger pushed its way to the front and squeezed its head out the driver's side window.
"I'll never forget the look on people's faces as we drove past," Todd says.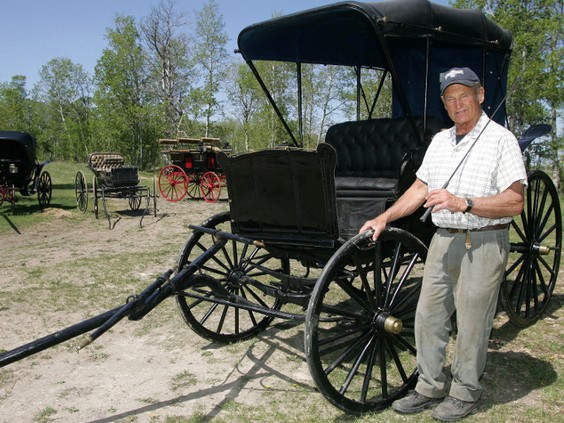 In recent years, Oeming had become an auctioneer and accumulated a collection of hundreds of carriages and thousands of sleigh bells.
Oeming's wrestling mat still sits in the basement of his house off Range Road 223 a short drive from his former game farm. His books on draft horses and horse-drawn vehicles are scattered in an office that overlooks the feeder where Oeming watched grosbeaks, blue jays and pileated and hoary woodpeckers. At night, he fell asleep, dreaming of the howls from packs of coyotes and timber-wolves and the roaring of lions.
On the night he died, Todd Oeming held his father's hand and kissed him on the forehead in his room at the Mazankowski Alberta Heart Institute. Sometime this summer, Oeming's family will gather at the former game park and spread his ashes in a spruce bog.
"The phone has been ringing every five minutes since the night he died," Todd Oeming says. "Some people are sobbing and others want to tell me stories.
"I listen for them, and for dad, too. It is almost like he has never left this house."

The Making of "Venice Inktense"
For this project I was working in reverse from the way I usually do things. Normally, I would do a picture and then worry about framing it, but with this one I had already acquired a frame with a profile I really liked, glass and all.
This meant that the project would have to be on paper. The only paper I could find large enough for the project was the paper used for my print, "A Time To Remember". It is a "hot press" paper (meaning it is extremely smooth and has virtually no "tooth" to it). As I still had a number of pieces in my possession, I decided to try it out.
While this kind of paper is required when doing off-set limited edition prints, it is a very challenging paper to use with artists materials, because it has very little "grip" for the pigments to hang on to.
A number of years ago I had purchased a box of ink pigment pencils (Inktense by Derwent) thinking they could have some interesting uses. Well, now they would be put to the test! First, I had to figure out how they would react to the smooth paper. And then how much abuse this smooth paper would allow. As it turned out, the paper is pretty tough stuff!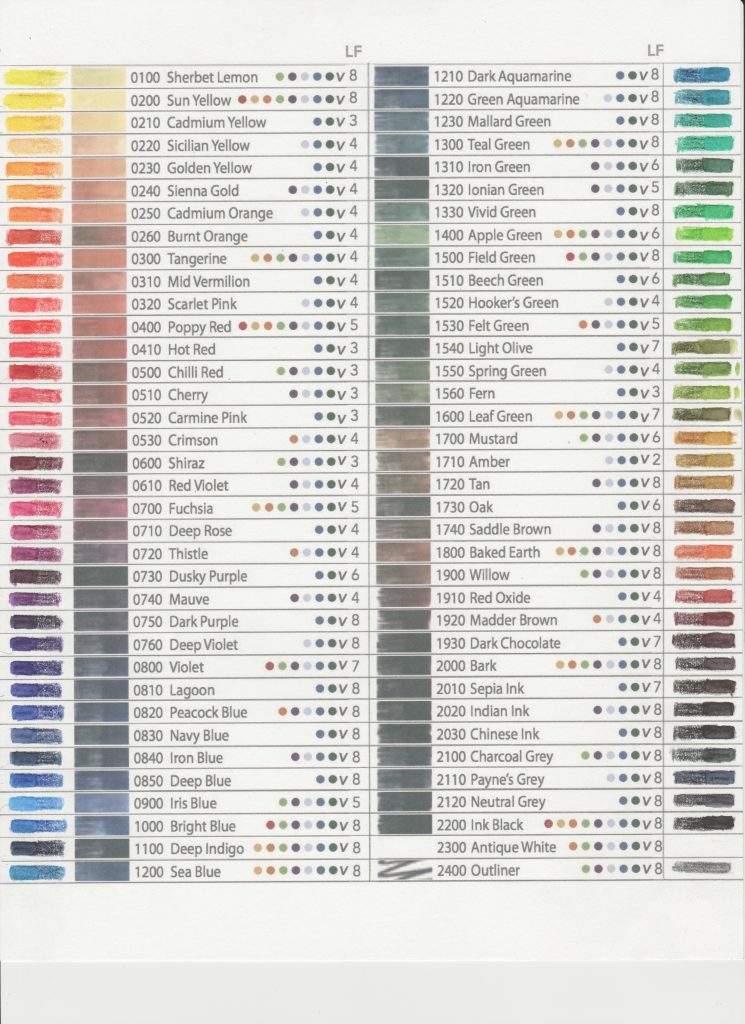 The colours on the Inktense pencils themselves, do not look the same as when the ink has been wet down. So I downloaded a chart with the 72 colours I would be using. To be certain (as chart colours may not be totally accurate) I made my own corresponding samples with the colours, dry and wet. This would be my reference chart for picking the right colors. I could use the colour dry or wet, but always had to remember that if a dry color ever got wet, it would change.
The other thing I had to always keep in mind was that the white inktense pigment does not work to give a pure white colour, but only to change another color, (such as adding white to red to give a pink color.) Therefore, anything white in the picture had to remain pure white paper, untouched by any pigment. (Which was a challenge in itself.)
First of course, I draw my picture on regular paper and work out all the kinks. This is something I do for every art project no matter what medium I will be working with. Then I transfer it using graphite paper. In this project, I probably transferred too much detail. Though it is tough, the hot press paper doesn't take well to erasing…so…the ink is going to have to be dark enough to cover all the transfer lines.
As you can see by the pictures below, the ink goes on extremely light…and all areas need to be blocked in with their base colours before I start applying the layers of ink.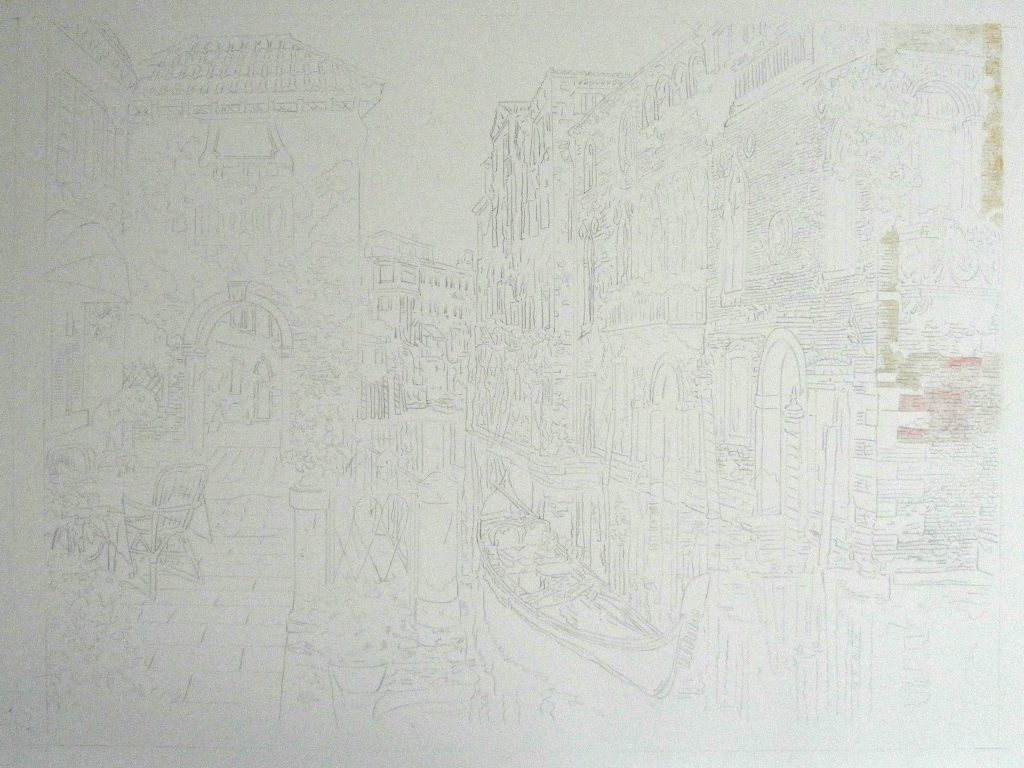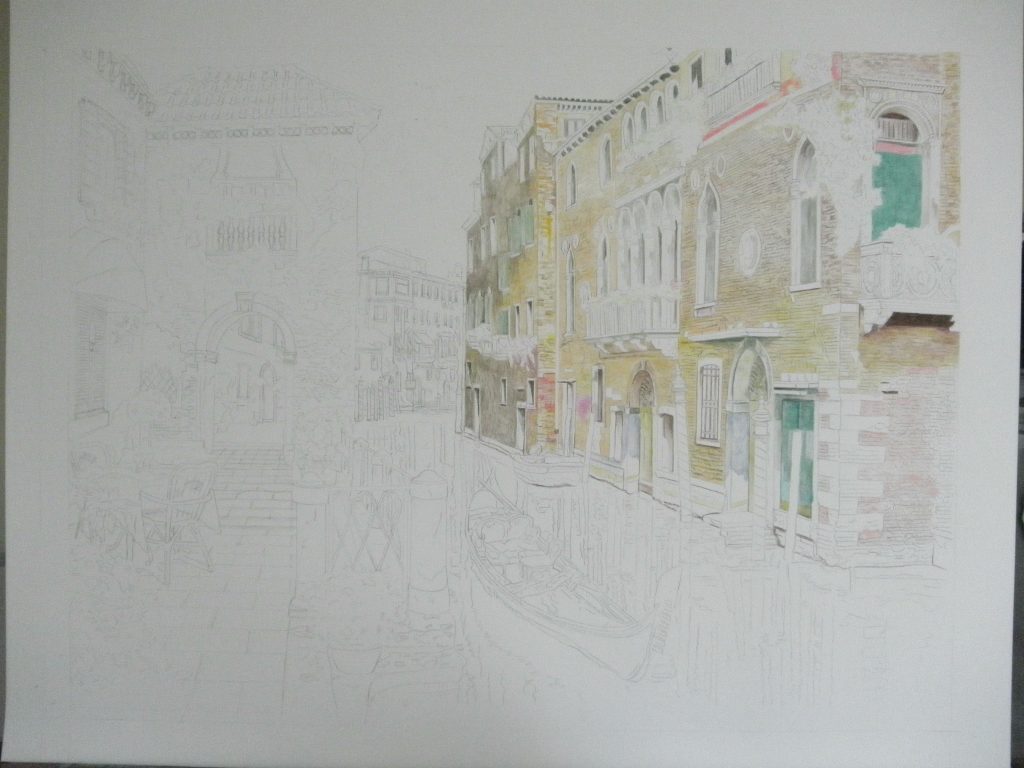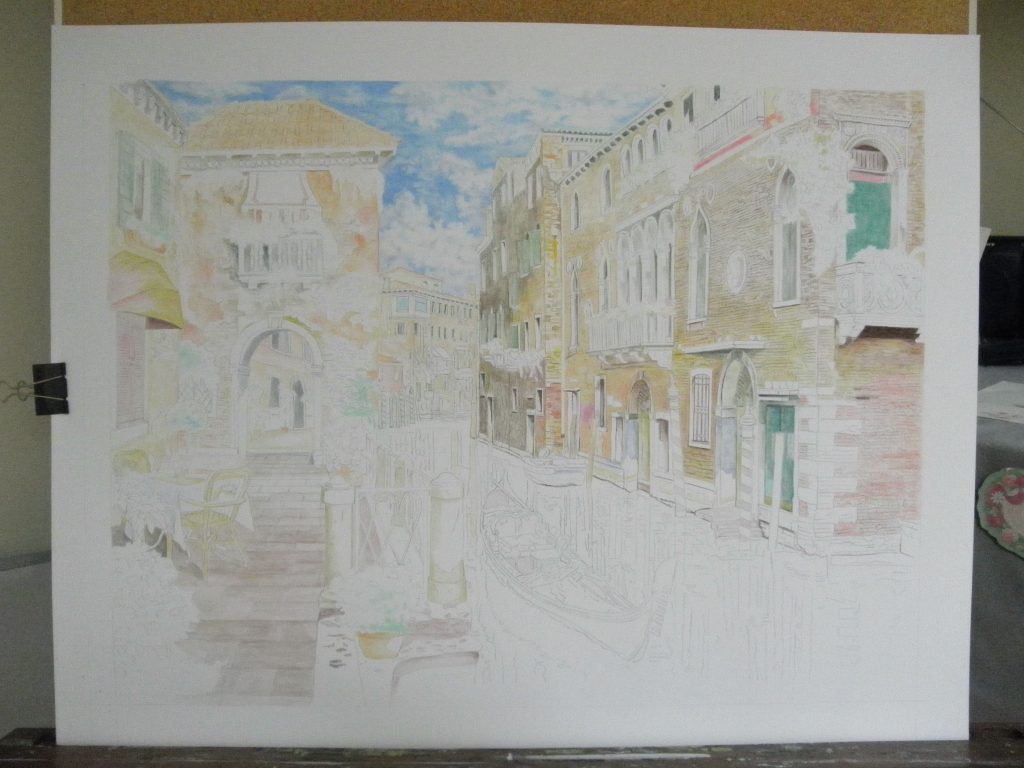 Through research, trial, and error (mostly trial and error), I discovered there are many different ways to apply the ink pigment. Initially I was using the dry pencil to "colour" it in, and then wetting it with a wet paint brush.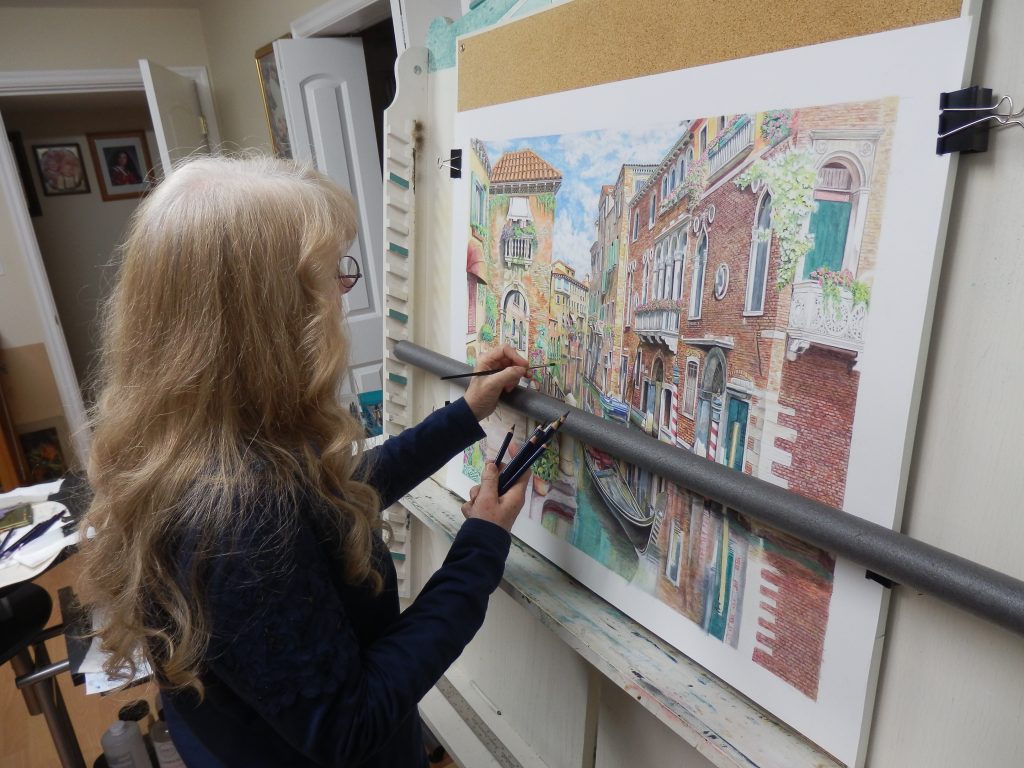 Another method I used was to wet a paint brush and take the ink pigment from the tips of the inktense pencils.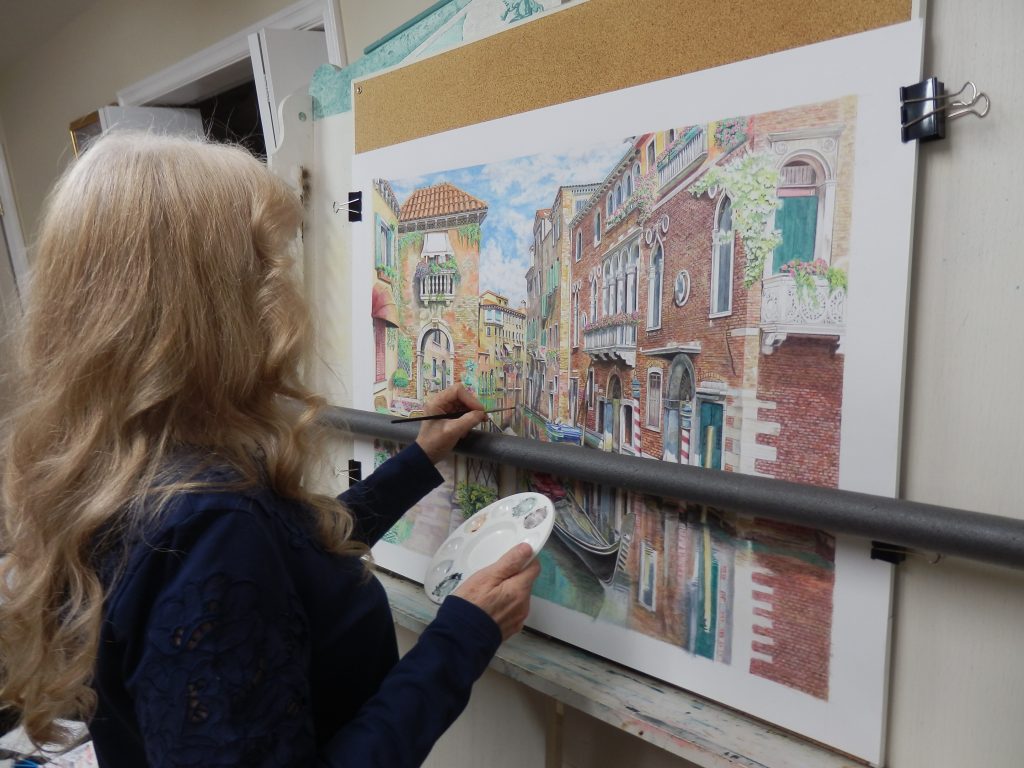 Another method that worked well for me was making an ink solution using the pigment and water in a water colour palette, then painting it on like a water colour paint. This allows you to mix colours other than what are supplied in the set.
After working with the pencils for most of the project , I purchased a small set of Inktense Blocks. Using a water color palette, this allowed me to shave pieces of ink pigment and make a fluid solution, rather than obtaining the pigment from the end of a pencil.
I used all the methods above to get the effect I wanted for this picture. It took many, many, MANY, layers of ink pigment to achieve the rich colours that I desired.
I really pushed the limit to see what could achieve from these Inktense pigments. It was a very lengthy and challenging project. I leave you with samples along the path, start to finish…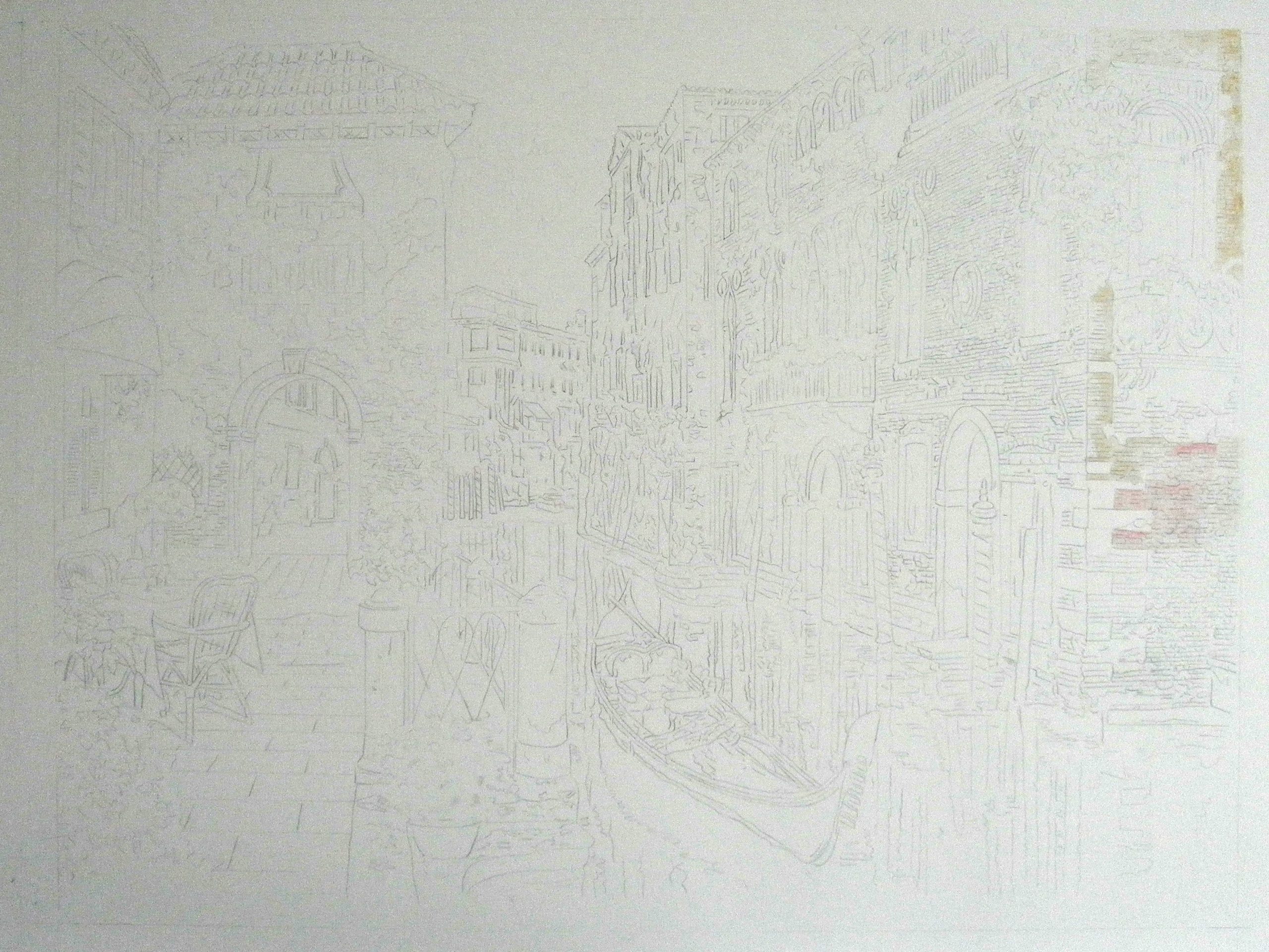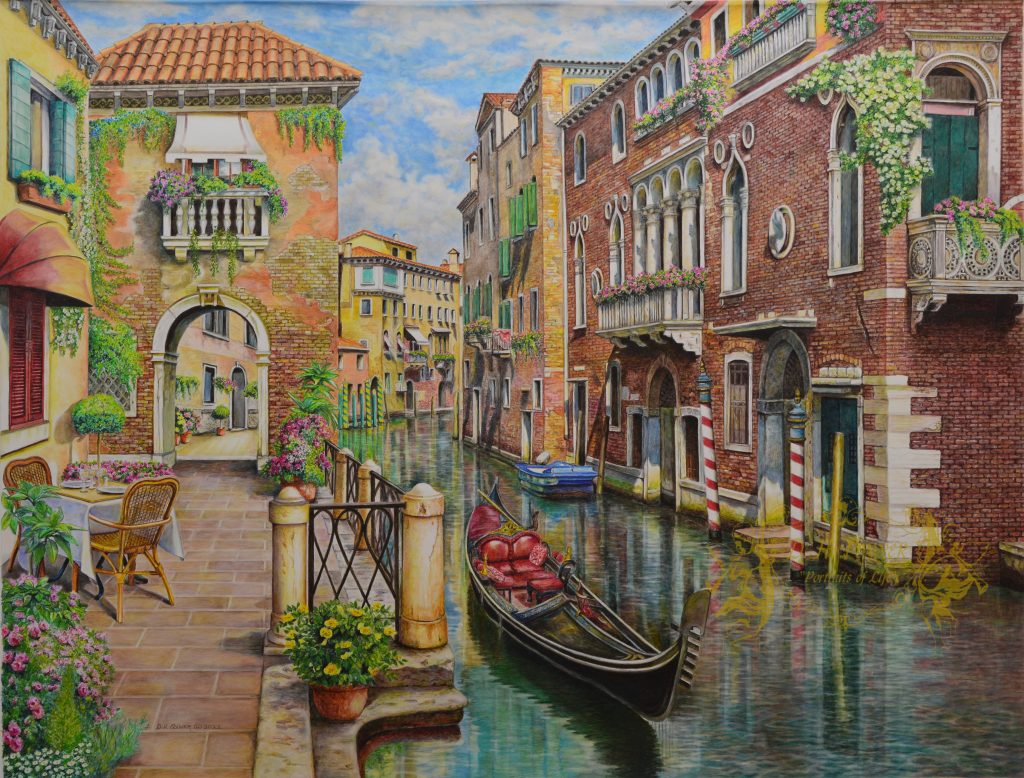 On a personal note…my audio companions for this project were: Joe Bonamassa (Live from the Royal Albert Hall), Gino Vannelli (Wilderness Road) and(More of a Good Thing) …Ciao.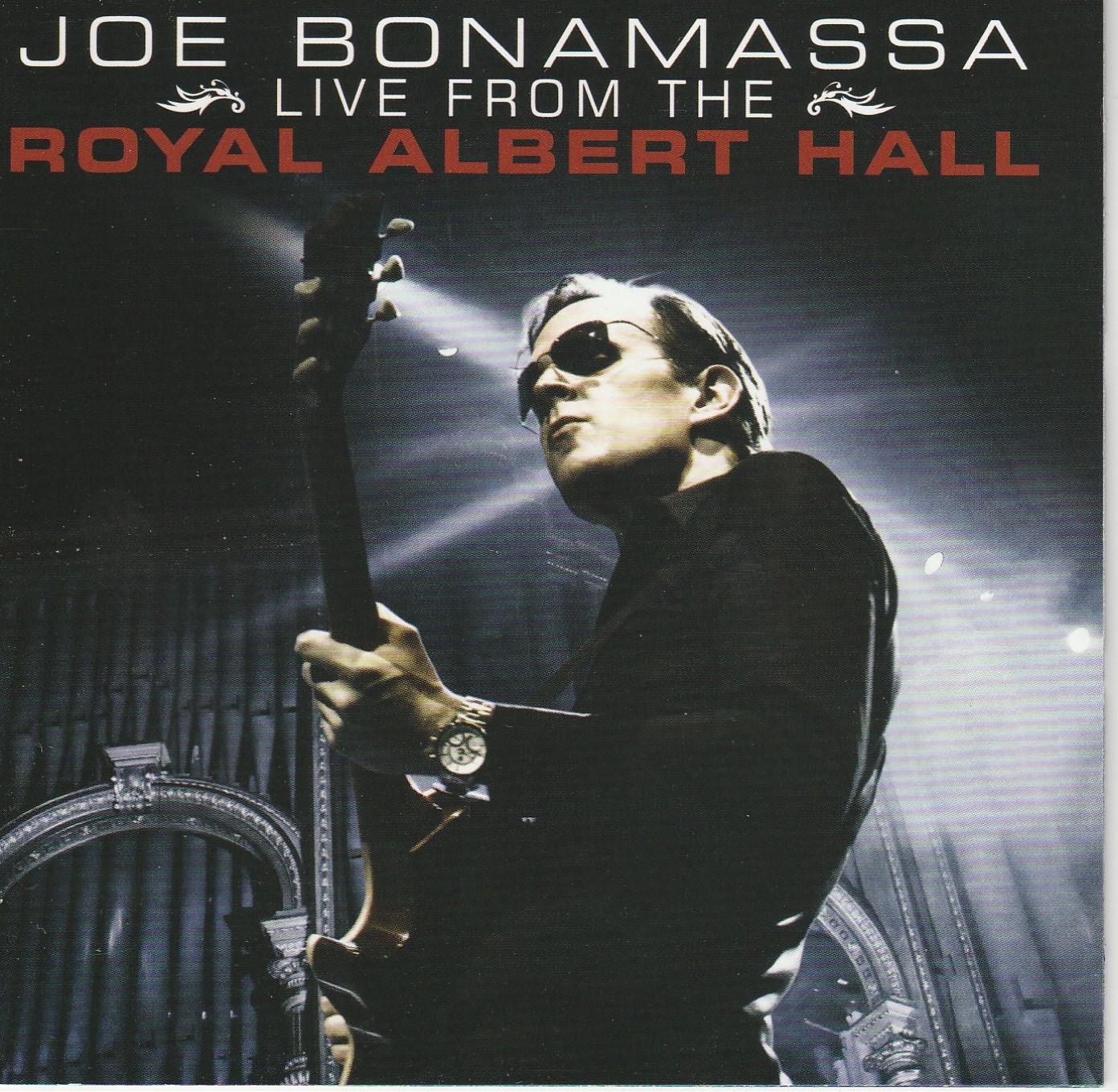 "Venice Gondola Ride"
This was a very personal project for me as it is from a snapshot of my daughter and her partner when they visited Venice. Being very fond of the picture (and of Venice!), and in my enthusiasm to put this moment to canvas, I overlooked my cardinal rule, "NEVER WORK FROM AN INFERIOR PICTURE!"
The picture was taken by the Gondolier, with a cell phone, and it was not set for the highest resolution. My mind was determined that this picture needed to find its way to my canvas and I didn't realize the poor quality until after I had been "committed" to it. So for me, there was no turning back.
Throughout the process of painting this picture, I used over two dozen other snaps taken on the gondola ride, that would help me get an accurate vision of the surrounding area, coloring, lighting, etc.
The unfortunate thing about camera "snaps" is that if great care isn't taken with angles, etc., it's easy to get a distortion in the background, thus throwing off the perspective. As the gondolier was focusing on the two people in the boat, and probably very little else, the background and surrounding wall were out of proper perspective. So, my first challenge was to correct this, and it proved to be a rather lengthy and labour intensive exercise!
…Once the drawing was completed, it needed to be transferred to the canvas using graphite paper…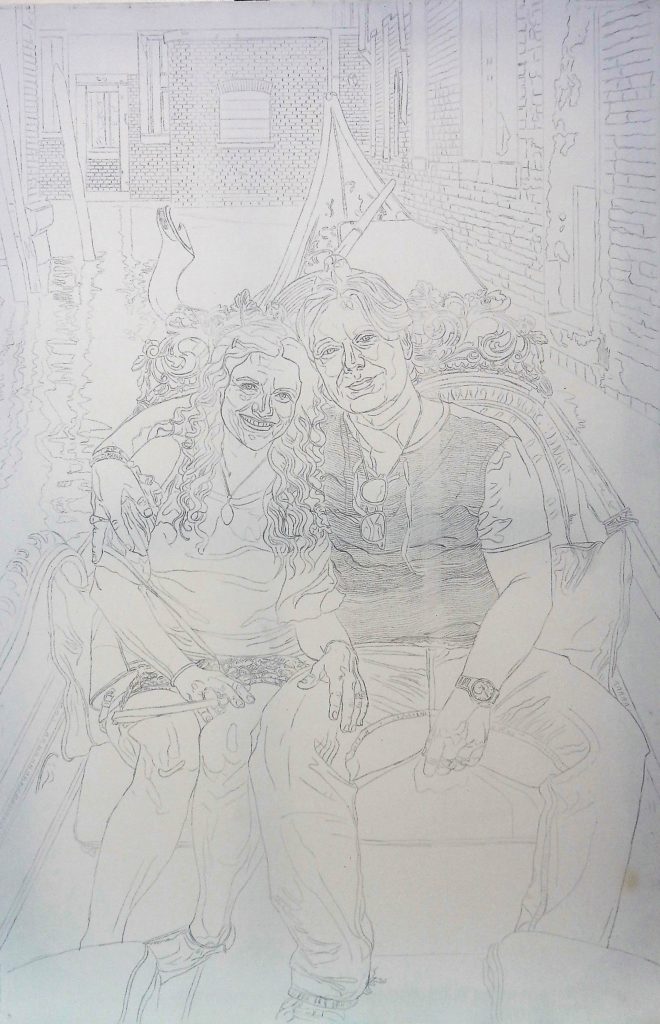 (Completed transfer of drawing onto the canvas.)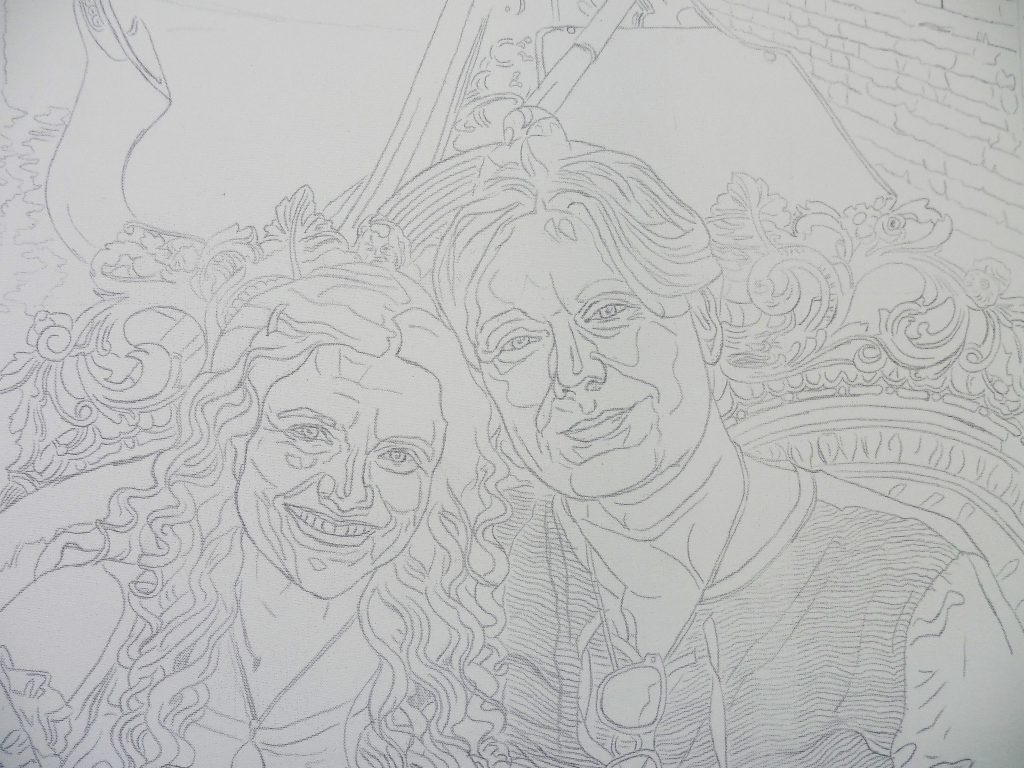 (Close up of portion of completed transfer to canvas.)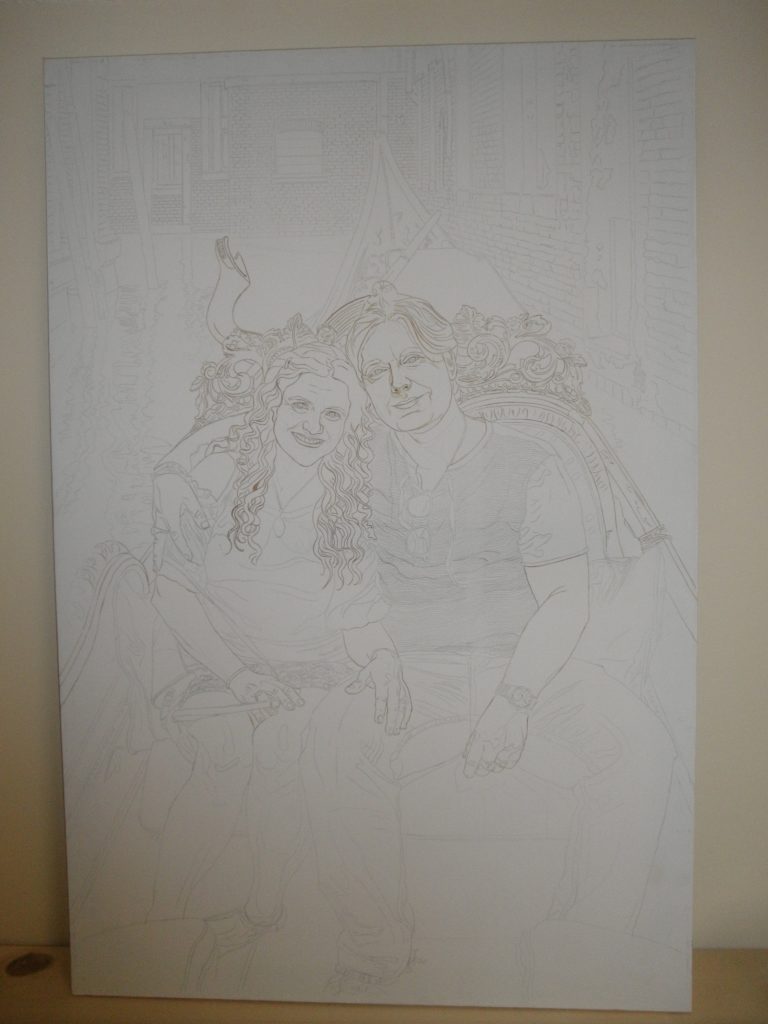 …After the transfer is complete, the drawing lines are then gone over with acrylic paint to "fix" them…This is important so that if I have to take paint off to correct something later, I will not lose my original drawing…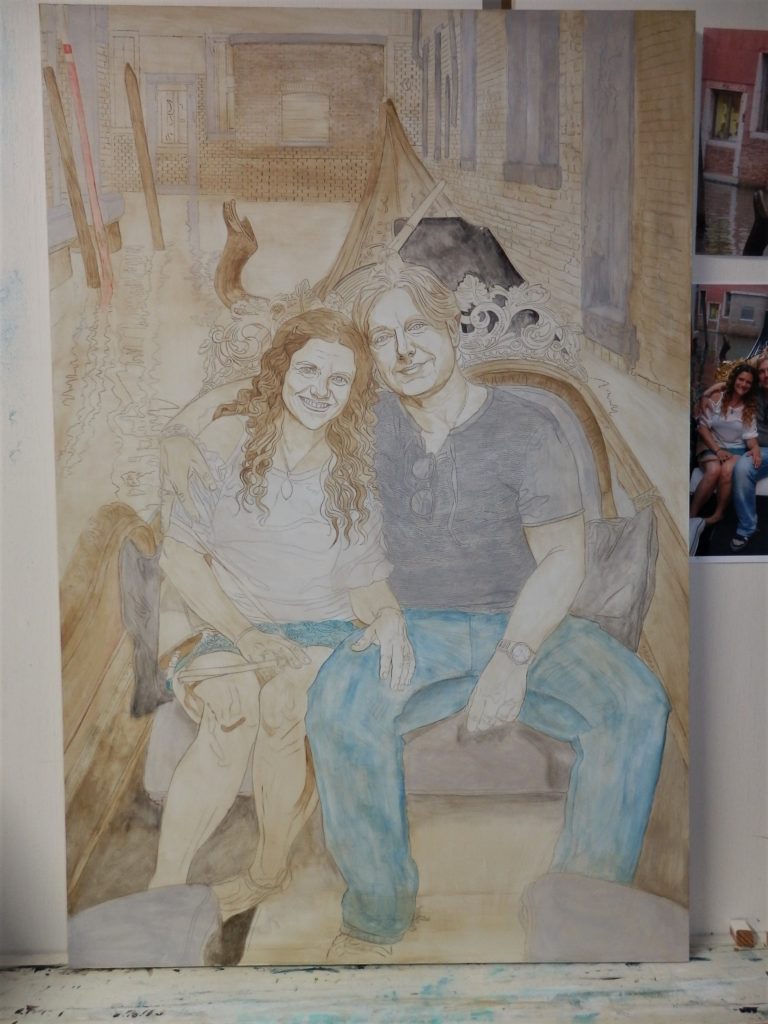 …A light acrylic wash is then put on to get rid of the stark white canvas, enabling tonal values to be judged more easily…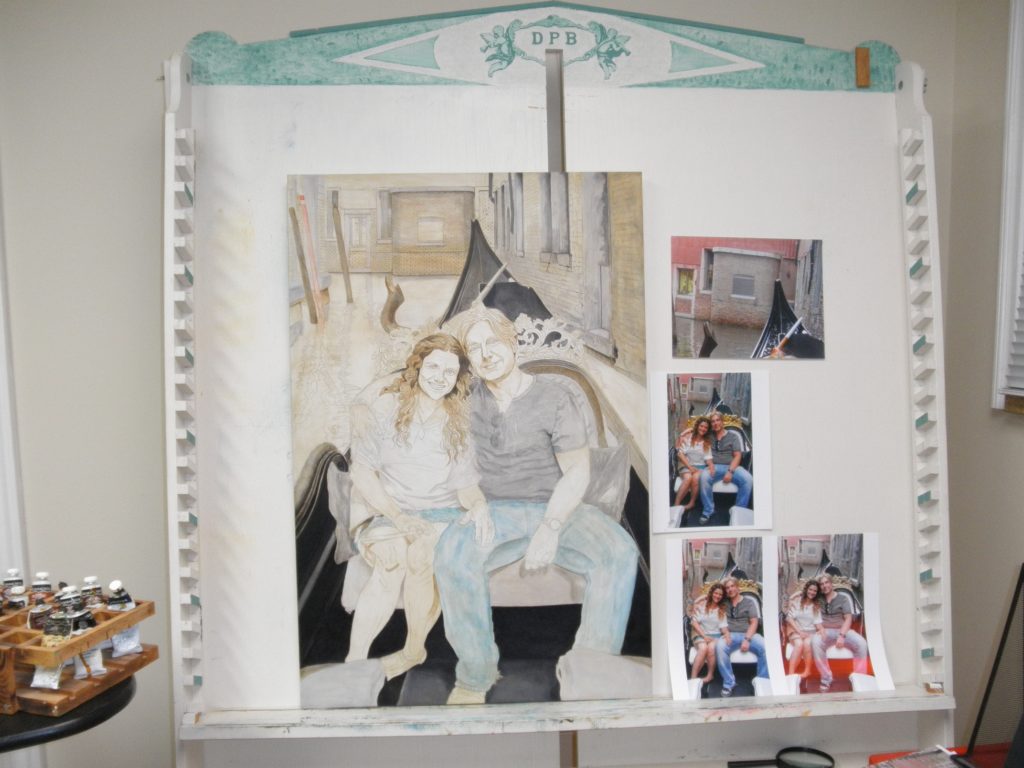 Color Adjustment
At this point I have to figure out the color scheme of my picture. The coloring of the original photo was too dark and orange toned to be natural.
I did what image adjustments of the photo that I could on the computer, and had 3 different color schemes printed out, but in the end, most of the coloring, especially for skin tones, was taken from other snapshots (selfies) that were taken on the ride.
I used the colors as they appeared directly from the computer screen, which looked more natural, rather than the printed versions, as the printed pictures seemed to mess up the colors. (Perhaps software to sync the computer screen colors to the printer would be a good investment!)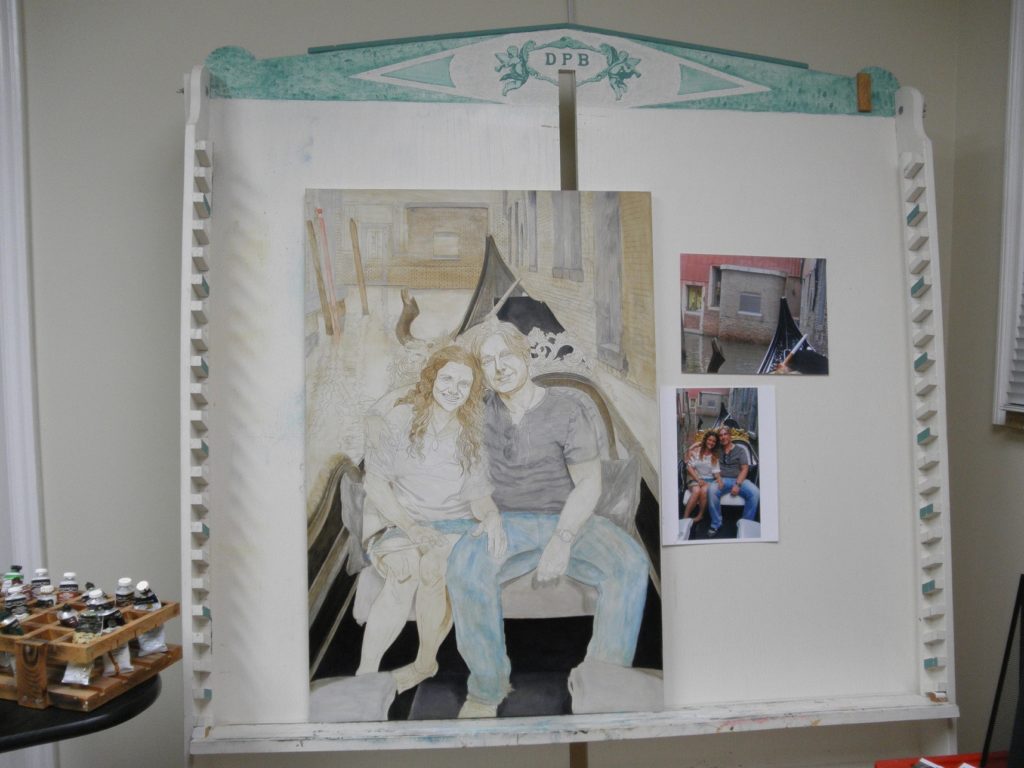 The next step is to start blocking in the colors with oils, starting with the darkest colors and progressing through the lightest…
As this is also "day 1" with oils, and blocking in is part of the oil painting process, I will forego the tedious details and present a gallery depicting the progress of the painting and identify the image in terms of days since starting to use oils.
I would also like to point out that I am using "dream canvas" (which is made from a patented, nylon coated fabric), and I need to always be cognizant of how much paint I am using, as the "tooth" of canvas is very fine .
(Click on image for a slightly larger view)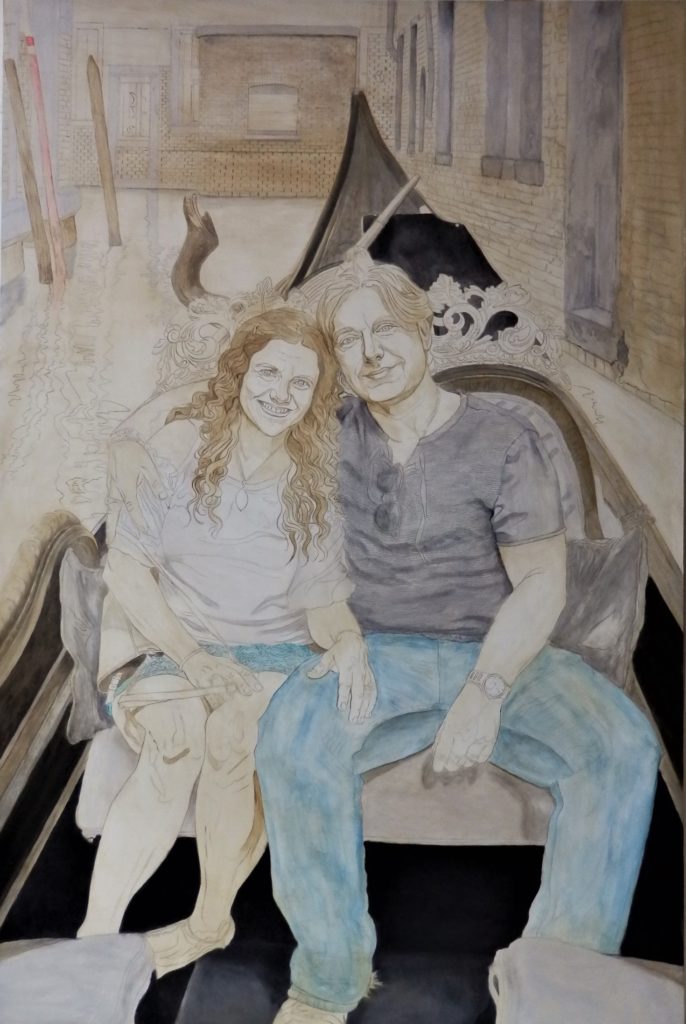 It took 97 days from the time I picked up my brushes and loaded my palette with oils, to completion. Because I had broken my cardinal rule, it took an additional 4 months to prepare, to get from conception to the transfer of the drawing onto the canvas.
It was a labor of love, and probably one of my most challenging endeavors…Worth it?…Absolutely…Would I do it again?…Not without the proper photo…. The completed "Venice Gondola Ride"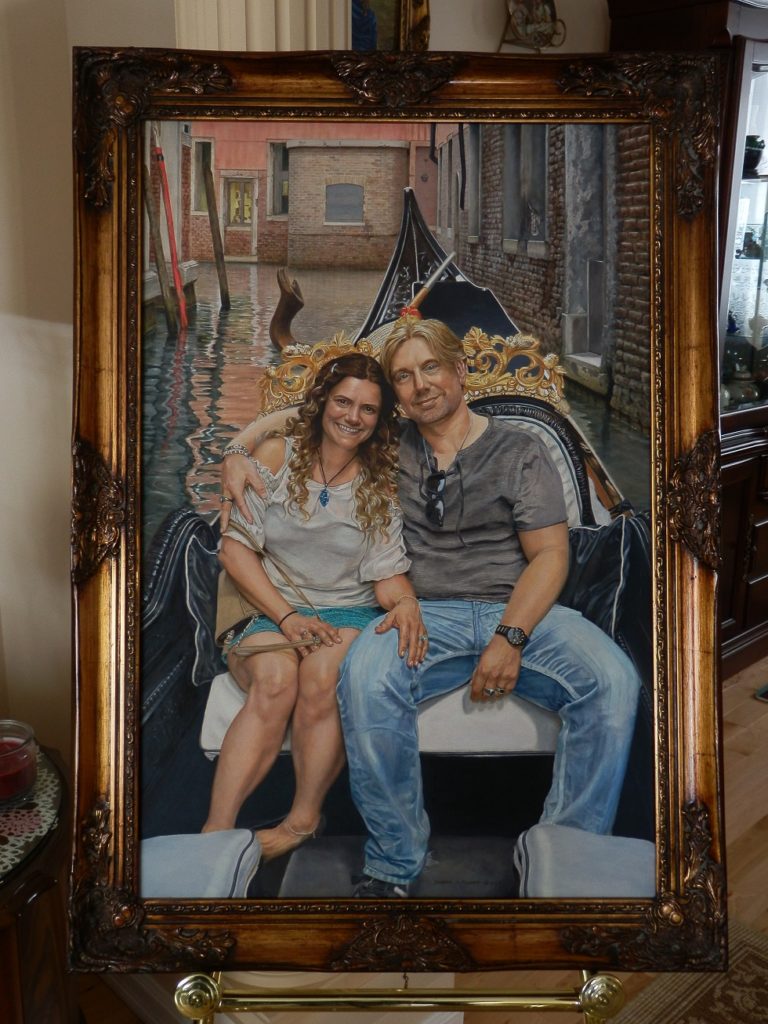 Just an aside…my audio companions for this project were: Joe Bonamassa (An Acoustic Evening at the Vienna Opera House; Live at Carnegie Hall – An Acoustic Evening; and Live from the Royal Albert Hall), Gino Vannelli (Live in LA), and, for occasional variety, the local radio station. And no, I do not get royalties for mentioning them…Ciao.